There will be a quiz on all of this tomorrow!
Important Math Links:

Weekly Computation Quiz -
ThatQuiz Periods 2-3
ThatQuiz Periods 5-6
Online Textbook - Pearson SuccessNet
You must register to use the online textbook.
Online Pre-Algebra
Homework Tutorials
AND Practice Quizzes and Tests
Learning Upgrade
POW Logic Puzzles Online
I Need HELP!
While there is typically ample time in class to ask questions, work with classmates, and practice, some students need more time and/or help.  You are welcome to work in our room before and after school.  Thursday after school is the only day our classroom is closed.  In addition, I have morning supervision about once a month for an entire week.  I arrive to school around 8:00am and usually leave around 4:30pm.  Please understand that I will be working in the morning and afternoon with planning and grading tasks but can easily help answer your questions while you are working.   Remember that I'm a huge fan of solutions rather than excuses.  Never wait until the last minute to ask for help!
How Can I Improve My Math Grade!?
#1 - Always complete your homework with high level of effort.
Homework is assigned to give you the practice needed to become proficient in the skills we learn in class.  While not a large part of your grade, doing your homework (and getting the problems correct) will help you get better quiz and test scores which will improve your grade.
#2 - Always complete your math journal every day.
Not only is the journal an important part of your grade, the act of taking notes and working problems helps you learn the skills needed to be successful on quizzes and tests.
#3 - Always repair your quizzes.
Quiz points are more valuable than journal or homework points.  A quiz repair must be on a separate paper stapled to the back of the corrected quiz.  You must show the correct solution and provide a written explanation of what you did wrong (no credit is given if you are missing either of these).  Half of the points for each question that is repaired are returned back to you.  It might not sound like much but remember that quizzes and tests are 70% of your grade!
#4 - Always achieve high scores on ThatQuizzes
You are assigned a ThatQuiz nearly weekly.  These quizzes test essential skills underlying our current area of study.  Many students find the quizzes to take relatively little time and effort to be successful while reviewing simple operations.  Each quiz counts as 5 points in the tests and quizzes category of your grade.  Doing well on ThatQuizzes is a huge boost to your grade.  On the other hand, if you don't do well or choose to not do them in class, your grade can quickly drop!  If you find a score that is really low and want another chance at it, you need to ask VERY nicely! 
This calendar is managed by Mr. G.  Dates, assignments, and other events are often updated and/or changed.  If you have a Google Calendar account, you can add this calendar using the button link at the bottom right of the calendar.
Extra Credit

I find that many students
think
extra credit is a quick and easy way to replace weeks of low effort, missed assignments, and poor test scores.  It is not.  Extra Credit for our math class is mostly limited to Learning Upgrade and is capped at a total of 3% of the total academic grade.  In the fall, students receive a user name and password to use with Learning Upgrade.  By the end of each semester, students must earn a "Gold Certificate" to earn the full extra credit.  To earn this, students must earn a 95% or higher in each of 60 lessons.  Fall Semester is the 6th Grade Review Course.  Spring Semester is the Pre-Algebra Upgrade Course.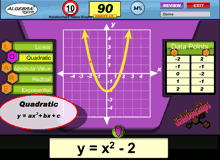 The Learning Upgrade courses have been proven to improve student's math scores on the state CST tests, as well as on district benchmark and other tests. These gains are related to how much time a student spends completing lessons.  Learning Upgrade is accessible online at
http://learningupgrade.com/
Students are welcome to use our classroom netbooks before and after school and are encouraged to work from home.  If you plan to work in our classroom, please bring headphones or earbuds.  We have a limited supply available in class.  A pacing guide is listed in the calendar to show what lesson you should at least be working on. The Gold Certificate MUST be finished by the end of the semester to receive the extra credit for the current final semester grade.  If you find yourself getting stuck on a level, ask for help from me, a parent, or a peer.